Key updates to Apple iOS 11
Augmented Reality
Most anticipated, iOS 11 now incorporates AR apps which means you can place virtual objects in real-world scenes. These apps can be used for interactive gaming, immersive shopping experiences, industrial design and more. Built on Apple's ARKit technology, Ikea has already unveiled their AR app 'IKEA Place' for the new iOS devices. From coffee tables to armchairs, you can choose from over 2,000 products that are 3D and true to scale, allowing you to experiment with different furniture and see how it would look and fit in your home.
"IKEA Place makes it easier to make buying decisions in your own place, to get inspired and try many different products, styles and colors in real-life settings with a swipe of your finger. Augmented reality and virtual reality will be a total game changer for retail in the same way as the internet. Only this time, much faster," – Michael Valdsgaard, Leader Digital Transformation at Inter IKEA Systems.
The apps work using the built-in camera, alongside powerful processors and finally, motions sensors in the new iPhones.
Photos
The incredibly popular and innovative Portrait mode now uses optical image stabilization, True Tone flash and HDR, for more professional images. While a new feature 'Loop and Bounce effects' create continuous video loops for Live Photos and 'Long Exposure' creatively captures time and movement. In Photos, Memory Movies are optimized to play in both portrait and landscape orientation, and more memories, such as photos of pets or birthdays, are automatically created.
App Store
The App Store has been redesigned in iOS 11 so that discovering apps and games is easier than ever before. You can uncover the stories behind iOS developers, and the incredible apps and games they create. App Store for iMessage is also easier to access with a redesigned app drawer.
Siri
Siri now offers translation, an expressive new voice and more proactive intelligence to help you through your day. New voices are more natural and expressive, adjusting intonation, pitch, emphasis and tempo while speaking, and can translate US English into Mandarin, French, German, Italian or Spanish, ideal to aid you on your next holiday or business trip.
Siri also uses on-device learning to deliver more personal experiences and offers suggestions based on personal usage of Safari, News, Mail, Messages and more.
Apple Pay
With an update to iOS 11 and watchOS 4, you'll now to be able to send and receive money from friends and family via Apple Pay. You can do so in Messages or ask Siri to pay someone, using the credit and debit cards you have in Wallet. When you receive a payment, it'll go into the new Apple Pay Cash card in your Apple Wallet so you can use the money instantly.
Do Not Disturb while Driving
iOS 11 introduces a new way to help you stay more focused on the road with Do Not Disturb while driving. Your iPhone will detect when you may be driving through vehicle movement or Bluetooth connections, and automatically silences notifications to keep the screen dark. You'll have the option of sending an auto reply to your Favorites, contacts or recents to let them know you're driving and cannot respond until you arrive at your destination.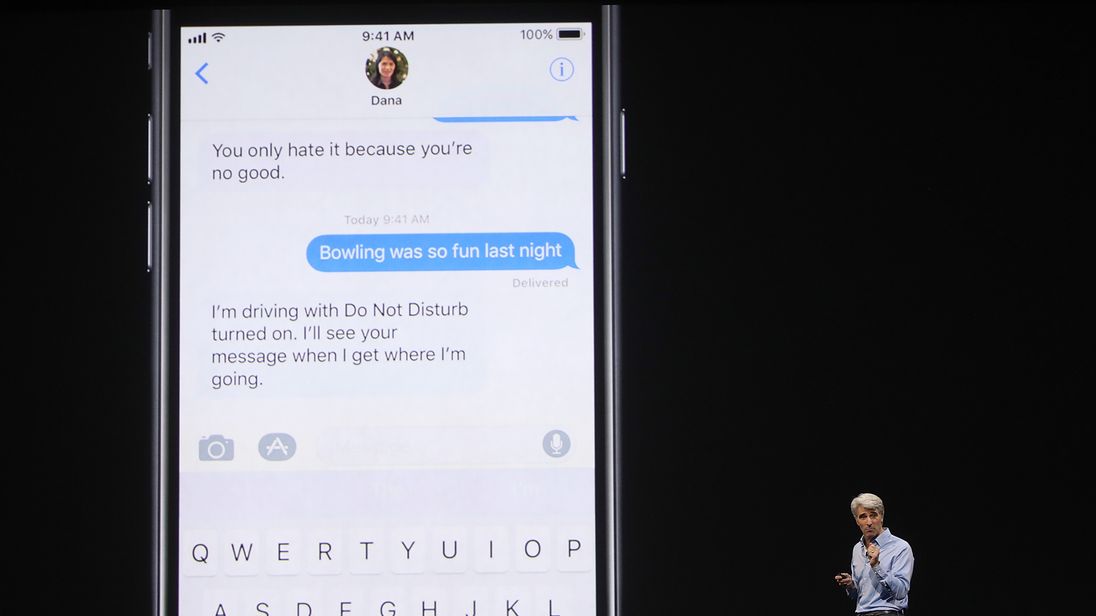 Apple Maps
New to iOS 11, Apple Maps has indoor maps for shopping centers and airports around the world, including: Amsterdam (AMS), London Heathrow (LHR), Las Vegas (LAS), Los Angeles (LAX), Miami (MIA), Philadelphia (PHL) and San Jose (SJC). You can also take advantage of the 'lane guidance' feature to help you better prepare for your next turn as well as information on speed limits.
Music
Apple Music subscriber? You can now create a profile and follow your friends to listen to shared playlists and listen to shared playlists and see the music they listen to most. You can also begin receiving notifications when friends follow you, new music is released and more.
Compatible devices: